Unmissable literary spots in Dublin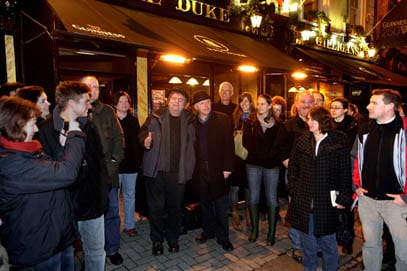 Winding stair
Located right at River Liffey, the Winding stair is a popular place for locals to go to and it's the oldest surviving independent bookshop in Dublin. Not only being a library, it also features a very good restaurant on the second floor serving traditional Irish and contemporary food. The bookshop sells both second-hand and new books and they are happy to order for you if you can't find what you're looking for. Two tables at the windows are ideal for long hours of reading and diving into your books while enjoying a cup of tea or coffee.
Writer's museum
Opened in 1991, Dublin's Writer museum was opened to host some of Ireland's most important literary tradition. Situated in a 18th century mansion on the north side of Dublin, the museum is home to many personal items, letters and books of famous writers such as Beckett, Yeats, Joyce and many more. Tours are available in all languages and a children's room is available too. If you're up for a bite after a long day of reading, Chapter One is the place to go. The Michelin-star restaurant is situated in the cellar of the museum and is the place to be in Dublin if you want to treat yourself a little.
Toner's pub
Located in Baggot street, this pub is ideally located for a good pint of Guinness and turns out to be one of the oldest and traditional pubs of Dublin. The old-fashioned, wooden interior made it the perfect spot for the famous author W.B. Yeats to occasionally take a tipple. Besides, Toner's pub has been nominated the snug of the year 2010, a separated cosy area which could also be used to read a book over a pint. Sounds tempting to sit where one of the most famous Irish writers once sat?
Marsh's library
Situated right next to St Patrick's Cathedral, Marsh's library is ideal for bookworms. It has not been changed in the past 300 years which makes it date back to the 18th century. Everyone is welcome to have a sneak peek at the eldest oak wooden books. A reading room is featured and promises quiet atmosphere to sink into your books.
The library is also registered as a charity that can be donated to in form of books or financial assistance which is then used to improve the library's facilities or enable the readers to access the books digitally.
Literary pub crawl
How about learning about Ireland's most famous writers in a fun way? Colm Quilligan kicks of the pub crawl every evening and even after having done this many times, he's still enthusiastic, humourful and eager about his tours. Quoting from James Joyce, Oscar Wilde and Beckett belongs together with his tour. The Duke pub in the city centre is the starting pub and timetables can be found here. For a small fee, you'll have the chance to explore Dublin's pubs, literary scene and meet new people at once.